Offline
Model Military International 28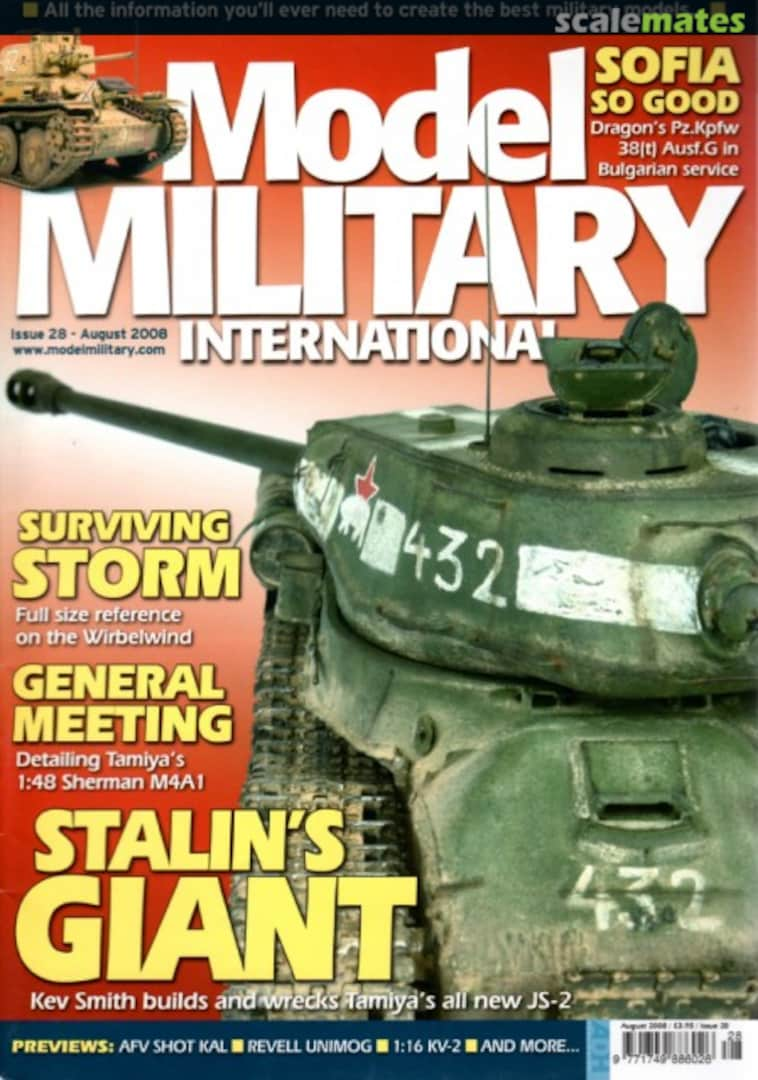 Issue
Table of contents
Page 4
News
Newsline-August'08
Events, clubs and shows, plus industry announcements
Page 5
Review, 1:35
A CRACKING WHIP
by Graeme Carruthers
AFV Club are steadily working their way through the range of Centurion tanks, Graeme Carruthers checks out the latest,, the '73' Shot Kal.
+
Page 6
Gallery, 1:35
SOFIA SO GOOD
by Andy King
Dragon have been busy releasing a whole host of models based on the 38(t) chassis. Andy King gets his hands on the new Ausf. G
+
+
Page 14
Gallery, 1:48
FLAK STORM
by Luke Pitt
Luke Pitt performs some major surgery on Tamiya's quarter scale Wirbelwind.
Page 20
Review, 1:35
BEST OF BRITISH
by Graeme Carruthers
These three new kits from Accurate Armour are a diverse bunch, from a quick conversion, to a complex conversion to a a complete kit
+
+
+
Page 22
Gallery, 1:35
STALIN'S GIANT
by Kev Smith
Following our preview, Kev Smith brings Tamiya's all new JS-2 to life.
+
Page 30
Review, 1:35
PRETTY MOG-NIFICENT!
by Karl Hoy
Karl Hoy checks out Revell's UNIMOG.
+
Page 32
Gallery, 1:48
GENERAL MEETING
The Editor builds and details Tamiya's cast hull Sherman and puts it into a simple diorama.
Page 38
Tips & Tricks
PERFECT PACKAGING
by Brian Balkwill
Brian Balkwill offers a step by step guide to making ultra realistic wooden crates and boxes.
Page 40
Review, 1:16
KV SUPERSIZE
by John Murphy
If BIG tanks are your thing? Then this all new 1:16 monster from Record Models could be exactly what you're looking for. The Editor takes a closer look.
Page 42
Review, 1:35
FIGURES
by Kev Smith
A round-up of the latest figures on release
+
+
Page 44
News
BOOK REVIEWS
A look at the latest titles to land on our doorstep
Page 48
News
LETTERS
The place to air your comments, suggestions and thoughts
Page 50
News
DIARY DATES
A listing of the up and coming model shows and events.
Page 52
Reference
SURVIVING STORM
by Scott Taylor
Scott Taylor provides us with some fascinating photos of a surviving Flakpanzer IV at Canadian Forces Base Borden.
Page 58
News
INCOMING
New kits, products and accessories get our initial thoughts
Page 66
Tips & Tricks
The Last Post... Techniques
by John Murphy
MAKING SIMPLE GROUNDWORK PART 7
Stash