Offline
Model Military International 22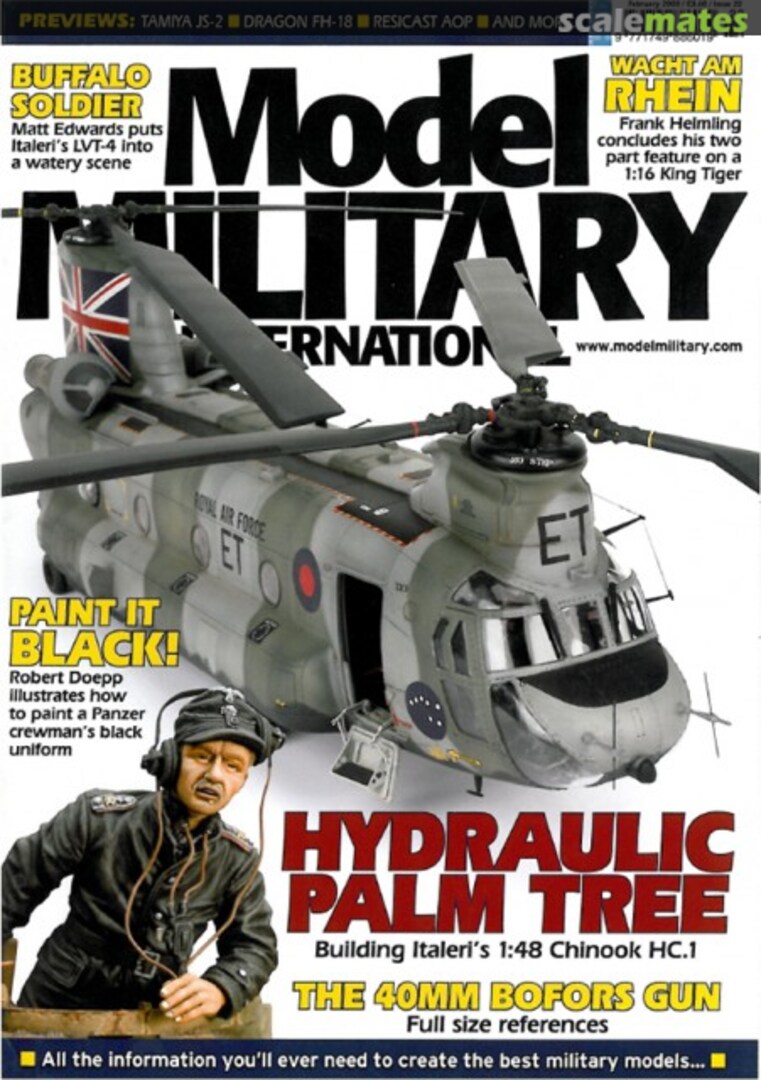 Issue
Table of contents
Page 4
News
Newsline-February'08
Events, clubs and shows, plus industry announcement'
Page 6
Review, 1:35
Turn-Coat Tank
by Andrew Willis
Andy Willis takes a look at Tamiya's second release of the Char B1
+
Page 8
Gallery, 1:16
Wacht am Rhein Part 2
by Frank Helmling
Frank Helmling concludes his in-depth feature on his 1:16 King Tiger
+
Page 14
Review, 1:35
Dragon bring out the Big Guns
by Darren Thompson
A look at Dragon's new release of the ubiquitous 15cm howitzer
+
Page 16
Gallery, 1:35
Paint it Black
by Robert Doepp
Using a figure of Michael Wittmann to ilustrate how to paint black uniforms
+
+
Page 22
Review, 1:35
AOP is AOK
by Ian McGonagle
Ian McGonagle sings the praises of Resicast's AOP Bren Carrier conversion
Page 24
Gallery, 1:48
Hydraulic Palm Tree
by John Murphy
Building the quarter scale wind generator - the CH-47 Chinook HC.1
+
Page 32
Gallery, 1:35
Buffalo Soldier
by Matt Edwards
Building a diorama around Italeri's LVT-4
Page 38
Review, 1:6
Is Bigger always better?
by Graeme Carruthers
a review of Dragon's huge Kettenkrad
+
Page 40
Review, 1:48
Good Grief!
by Luke Pitt
A look at Tamiya'a latest 1/48 scale release
+
Page 42
News
Book Reviews
A look at the latest titles to land on our doorstep
Page 44
News
Figures
A round-up of the latest figures on release
Page 46
Review, 1:35
Super Stalin
by Andrew Willis
Check out Tamiya's all new "Joseph Stalin"
+
Page 50
Review, 1:35
Simply stunning deer
by Andrew Willis
A look at the first of the Staghound armoured cars from Bronco
+
Page 52
Reference
The Universal Gun
by David Doyle
A look at some of the wartime photos of the Bofors 40mm gun
Page 58
News
Incoming
New kits, products and accessories get our initial thoughts
Page 66
Tips & Tricks
THE LAST POST... Techniques
MAKING SIMPLE GROUNDWORK
Stash