Tamiya Model Magazine 103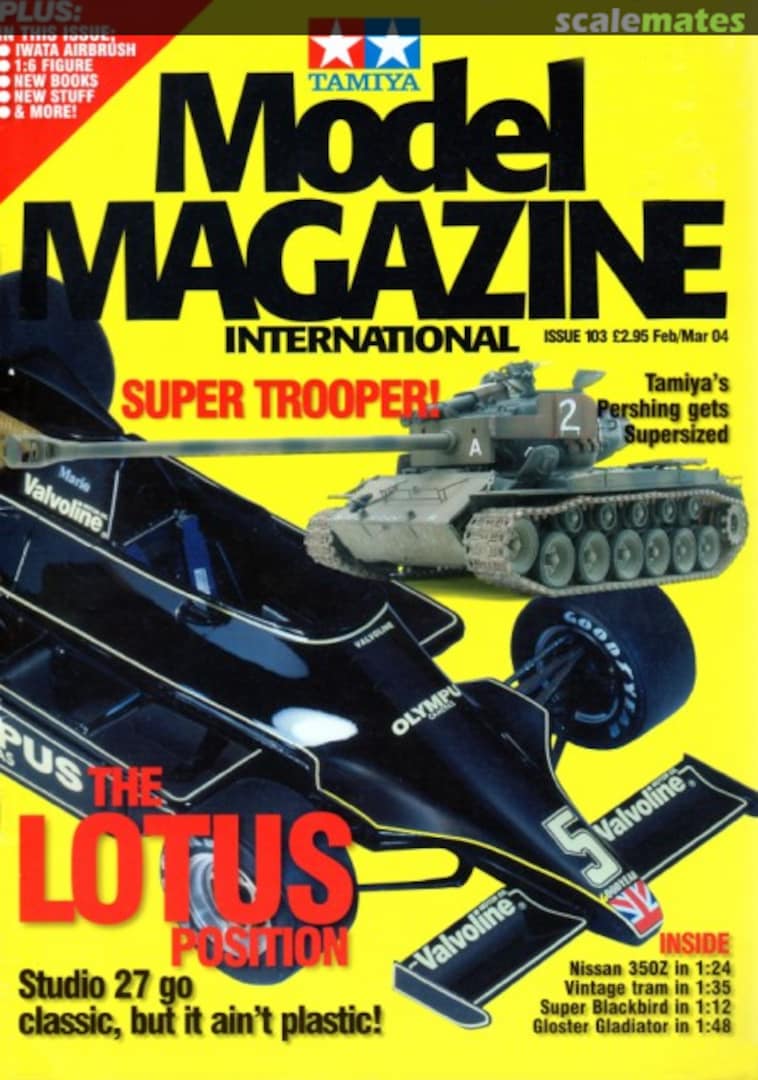 Table of contents
Page 6
Review, 1:35
New Releases SPECIAL FEATURE
by Marcus Nicholls
Dragon 1:6 action figure Trumpeter SA-2 Guideline Missile on Transport Trailer
+
Page 8
Build Report, 1:20
Black Beauty
by Eric Evain
With the full co-operation of Classic Team Lotus, Studio 27 have created possibly the ultimate kit of the legendary 79, and it's a complex, all metal project. Eric Evain takes the plunge...
Page 16
Build Report, 1:48
Doctored Gloster
by Geoff Coughlin
Geoff Coughlin installs Eduard's photo-etched set into Roden's recent kit, and applies some aftermarket decals too...
+
+
+
Page 20
Build Report, 1:12
WALKING IN RHYTHM
by Jeremy Pearse
Jeremy Pearse builds Tamiya's 1:12 kit from the box
+
Page 26
Build Report
A STREETCAR NAMED DESIRE
by Marcus Nicholls
It takes a bit of building, but the European Trolley from Custom Dioramics might just be the ultimate diorama accessory... The Editor is at the ready with glue and airbrush in hand...
Page 32
Build Report, 1:35
MIGHTY 90
by John Murphy
John Murphy takes a Tamiya Pershing and makes it 'Supersize'...
Page 39
News
Book Reviews
Plenty of new titles
Page 44
Review
New releases Kits
Four pages of new kits
Page 48
News
IN PURSUIT OF PERFECTION
by Marcus Nicholls
The legendary Iwata Custom Micron is quite possibly the best airbrush on the market,, but it is more demanding to use than others. The Editor explains...
Page 50
News
New Releases - Accessories
Neat new aftermarket stuff to stick on the plastic.
Page 56
Build Report, 1:24
RETURN OF THE Z CAR
by Mark Flys
Mark Flys builds Tamiya's 1:24 kit and applies a funky copper colour scheme...
+
Nissan 350Z
(for Tamiya)
Studio27 1:24
ST27-FP2457
2002 | New tool
+
Page 60
News
Postbag
Your views good and bad in print...
Page 66
Editorial
The Last Word...
by Marcus Nicholls
Just space for some last minute product updates!