Offline
Model Military International 34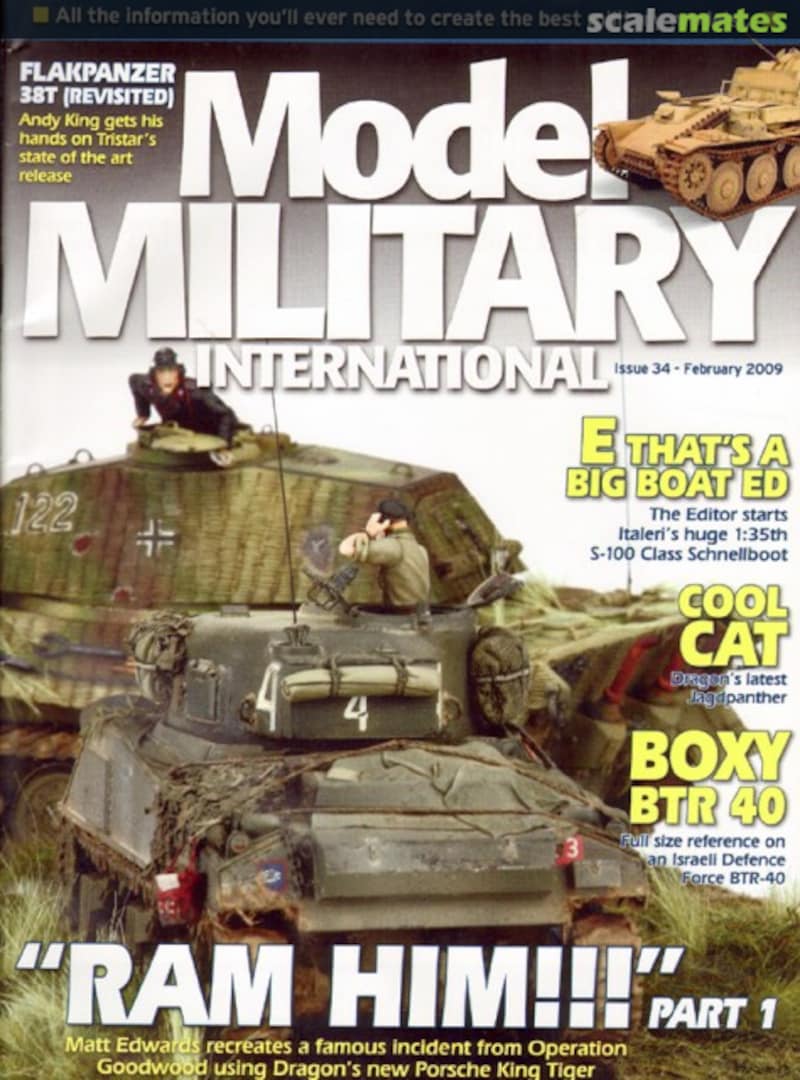 Issue
Table of contents
Page 4
News
News
Events, clubs and shows, plus industry announcements
Page 8
Gallery, 1:35
FLAKPANZER 38T (REVISITED)
by Andy King
Andy King's first Flakpanzer 38 review was on the rather basic Alan Hobbies kit, now he gets his hands on Tristars state of the art release.
+
Page 13
Reference
References Flakpanzer 38T
Page 14
Gallery, 1:35
E THAT'S A BIG BOAT ED Part 1
by John Murphy
The Editor climbs inside the ridiculously large box of Italeri's all new and mightily impressive S-Boat and has a good look around with a view to moving in and living in it!
+
Page 19
Review, 1:35
RESIN ROLLER
by Keith Goldsworthy
Keith Goldsworthy gets his hands on Resicast's amazing Rolls-Royce armoured car.
+
Page 20
Review, 1:35
THE FIRST OF MANY?
by Graeme Carruthers
Graeme Carruthers takes a first look at this very much anticipated release of a long overdue plastic kit of the Churchill Infantry Tank, let's hope there are other versions to follow?
+
Page 22
Gallery, 1:35
COOL CAT
by Kev Smith
Kev Smith reviews Dragon's latest Jagdpanther and he loves it,, so why did he give it a pasting?
JAGDPANTHER
Sd.Kfz.173 Ausf.G1 Early Production
Dragon 1:35
6458
2007 | New tool
+
+
+
Page 28
News
A SHOW TO FAR (IF YOU FORGET YOUR PASSPORT!)
by Andy Horton
Andy Horton reports on the Scale Model Factory show in Eindhoven, Holland and by all accounts was a show not to be missed
Page 32
Gallery, 1:35
"RAM HIM!!!"
by Matt Edwards
Matt Edwards uses a famous WWII photo to recreate the scene in 1:35 scale.
Page 38
News
Figures
A round-up of the latest figures on release
Page 42
News
Book Reviews
A look at the latest titles to land on our doorstep
Page 44
Review, 1:35
PANTHER 'F'ANTASY
by Darren Thompson
Darren Thompson takes a look at the futuristic looking Panther,, that just missed the end of the war, but is still a very popular subject with German armour modellers.
Page 46
Review, 1:35
DIRECT VISION...
by Martin Dogger
Martin Dogger gets his hands on the long awaited DV Sherman II from the guys at Tasca.
British Army
Sherman II
Direct Vision Type (El Alamein 1942)
Tasca 1:35
35-014
2008 | Changed parts
+
Page 48
News
Letters
The place to air your comments, suggestions and thoughts
Page 50
Review, 1:35
THE ULTIMATE HEAVY HUNTER!
by Marcus Nicholls
Marcus Nicholls has a hands-on look at Tamiya's all new Jagdtiger kit in 1:35.
+
Page 51
News
DIARY DATES
A listing of the up and coming model shows and events.
Page 52
Reference
BOXY BTR 40
by Zackary Sex
Zackary Sex returns with another fascinating photo reference report, this time it's on an Israeli Defence Force BTR-40.
Page 58
News
INCOMING
New kits, products and accessories get our initial thoughts
Page 66
Tips & Tricks
THE LAST POST... Techniques
by John Murphy
SOFT SKIN BATTLE DAMAGE PART 2
Stash