Offline
Model Military International 10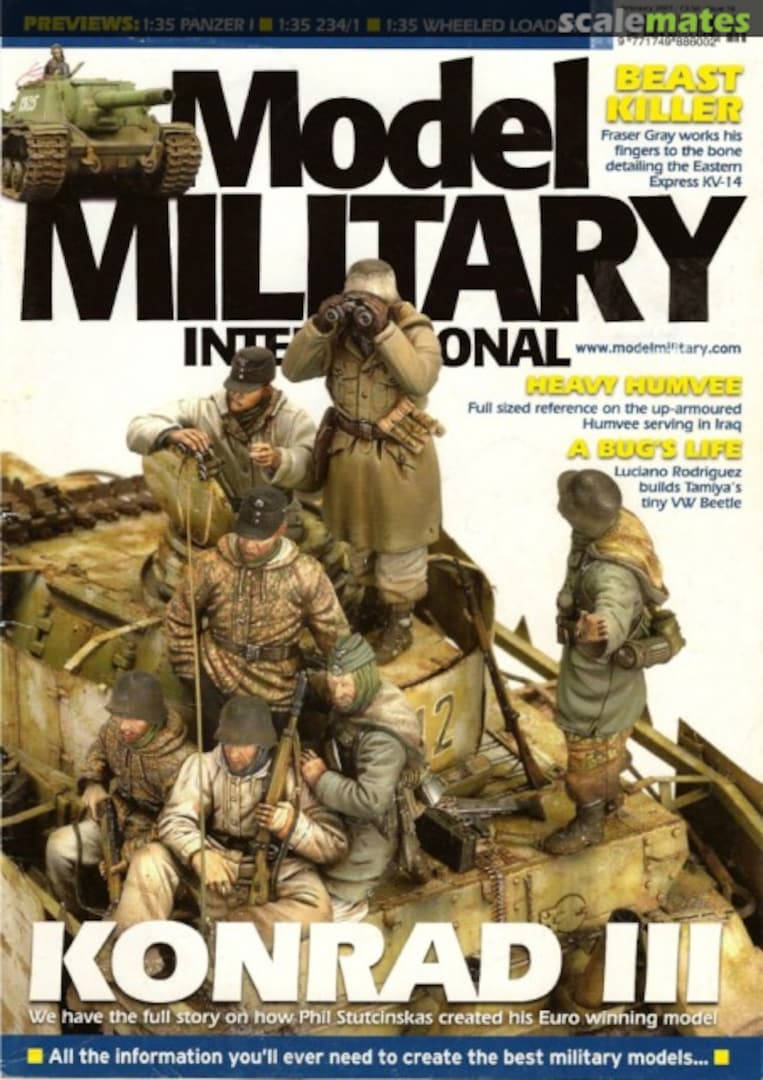 Issue
Table of contents
Page 6
Review, 1:35
BUCKET LOADSA FUN
by John Murphy
We take a look at the Tonka Toy for armour modellers...
+
Page 8
Tips & Tricks, 1:72
TOWARD THE RIECHSTAG
by Justo Mira
Justo Mira describes in brief his amazing 1:72 Berlin diorama. Even in this scale it's BIG! DIORAMA FEATURE
Page 14
Gallery, 1:48
A BUG'S LIFE
by Luciano Rodriquez
Luciano Rodriquez builds-up and brings Tamiya's tiny beetle to life.
+
Page 20
Gallery, 1:35
KONRAD III
by Phil Stutcinskas
Phil Stutcinskas describes what went into producing his Euro Militaire 'best of show' Panzer IV Ausf J
+
Page 30
Reference, 1:1
REFERENCES - Late Model Panzer IV
To round off our feature on Phil's Panzer IV article, we have included a brief selection of photographs of surviving PzIVs at the tank museum in Saumur, and at the Old Cheese Factory in Falaise, which now houses an amazing collection of Allied and German W
Page 34
Gallery, 1:35
BEAST KILLER - Tech Guide
by Fraser Gray
Fraser Gray offers some more invaluable advice in another of his comprehensive tech guides, this time using the Eastern Express SU 152.
Page 40
Tips & Tricks
LET US SPRAY
by John Murphy
Confused about which airbrush and compressor package to buy? The Editor takes a look at a new range of customisable solutions that provide the answer...
Page 42
Review, 1:35
FUNKY ACHT-RAD!
by Darren Thompson
The second incarnation of Dragon's 234 series, brings us the 2cm reconnaissance version...
+
Page 44
News
Book Reviews
A look at the latest titles to land on are doorstep
Page 46
Review, 1:35
TOP NOTCH TECHNICAL
by John Murphy
We take a look at Mig Productions' first release in their range of Hi-Lux pick-ups.
+
Page 48
News
letters
The place to air your comments, suggestions and thoughts
Page 49
Review, 1:35
THE 'SMART' ONE!
by Darren Thompson
Dragon gives it's latest Panzer I chassis the 'Smart Kit' treatment.
+
Page 50
News
Figures
A round-up of the latest figure on release
Page 52
Reference, 1:1
HEAVY HUMVEE
by Ralph Zwilling
In keeping with our modern theme Ralph Zwilling reports on the up-armoured Humvees in Iraq. References - The up-armoured M1114 HMMWV
+
Page 58
News
Incoming
New kits, products and accessories get our initial thoughts
Page 66
Editorial
SCALE MODEL WORLD 2006
by John Murphy
THE LAST POST... and product of the month Liquid Reamer.
Stash