Russian Main Battle Tank T-90A
Meng Model | No. TS-006 | 1:35
Hechos
Marca:
Meng Model
Título:
Russian Main Battle Tank T-90A
Número:
TS-006
Escala:
1:35
Tipo:
Kit completo
Publicado:
2013 | Lanzamiento inicial - nuevos moldes
Código de barras:
4897038550180

(EAN)

Tema:
T-72 » Tanques (Vehículos)
Marcas
T-72
T-90A
Russian Armed Forces (Vooruzhonnije Sily Rossiyskoj Federatsii 1992-now)
19 Mororized Rifle Brig.

118

(Unknow)
North Caucasus
Russian green, Black, Duck egg green
27 Separate Guards Mororized Rifle Brig.

6-0~6-10

(Unknow)


Mayo 2008

Russia Victory day Parade 2008 - Moscow
Russian green, Black, Sand
27 Separate Guards Mororized Rifle Brig.

5 or 5-1~10

(Unknow)


Mayo 2009

Russia Victory day Parade 2009 - Moscow
Russian green, Black, Sand
27 Separate Guards Mororized Rifle Brig.

610~3/621~3/631~3/641~3/651~3

(Unknow)


Mayo 2010

Russia Victory day Parade 2010 - Moscow
Russian green, Black, Sand
27 Separate Guards Mororized Rifle Brig.

210~3/221~3/231~3/241~3/251~3

(Unknow)


Mayo 2011

Russia Victory day Parade 2011 - Moscow
Russian green
27 Separate Guards Mororized Rifle Brig.

Various

(Unknow)


Mayo 2012

Russia Victory day Parade 2012 - Moscow
Russian green
Contenido de la caja
Bebedero de plástico, Bebedero de plástico (Clear), Piezas fotograbado, Cuerda, Hoja de calcas (al agua), Vinilo
Línea temporal del producto
Instrucciones
Mercado
Otras monedas

Trade & swap
Alternative SKUs for Meng Model TS-006:
MEN-TS-006 | TS006 | ME-TS006 | MMTS006 | MM TS-006 | MENG-TS006 | 4897038550180 | MMTS-006 | MNGTS-006 | MNGTS006 | MGKTS06
Nota: Los precios y la disponibilidad son sólo indicaciones. ¡Compruebe si el producto realmente coincide!
Revisiones de caja
External reviews
Review
Channel: Panzer Modellbau alle Kategorien
Review
Channel: Military Scale Modelling
Review
Channel: Stuart's Scale models.
Almacén
Lista de deseos
(137 amigos)
Revistas
Este producto aparece en los siguientes números de revistas de modelos...
Productos relacionados
Detail and Conversion sets
Figures
Masks
Libros
T-72/72M
T-72/72M/M1 Soviet Main Battle Tank in detail
Present Vehicle Line No. G 014
František Ko, #345, án, František Sýkora, Jos...
2006
Todos los libros » (10 en total)
Galería
T-72 B1
Meng Model 1:35
por Sungjun Jang en Panzer Modell
T-90A
Meng Model 1:35
por Joachim Koch en Panzer Modell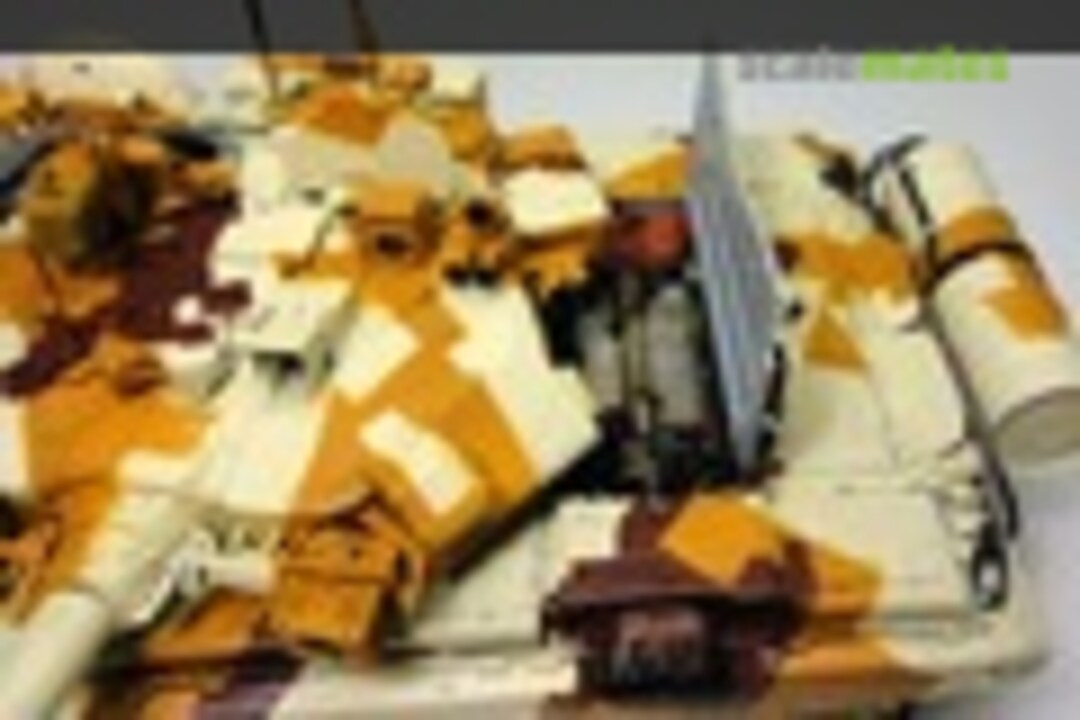 T-90A
Meng Model 1:35
por karabasss en scalemodels.ru
Todos los artículos » (14 en total)
Noticias
Viktor Mullin
Does somebody want to exchange this kit for some airplane?
11. October 2014, 21:10
Mark Snel
Building in progress
25. August 2014, 13:45
Frank Krause
Ok, let's see, what Meng will present. So far the Zvezda T-90 is unbeaten in details and price.
T-90 (Zvezda 3573, 1:35)
8. May 2013, 16:36
william wise
it would be nice if someone did a comparison, because i want to build one, i normally don't like modern stuff but the T-90's look to darn good not to build one
8. May 2013, 21:09
Más sobre el/más sobre la (it depends on gender) T-72 tank
T-72
Este tema se clasifica en: Vehículos » Tanques » T-72