Sherman Tanks of the Red Army
The American vehicle in Soviet Service
Peter Samsonov
Facts
Title:

Sherman Tanks of the Red Army The American vehicle in Soviet Service

Author:

Peter Samsonov

ISBN-13:

978-1-911658-47-4

Format:

Paperback

Pages:

122 pages

Dimensions:

1803×76×2438

Language:

English

Released:

2021

Publisher:

Topic:
Reviews
We found 2 review(s) of this book Sherman Tanks of the Red Army (#) by Peter Samsonov on the web: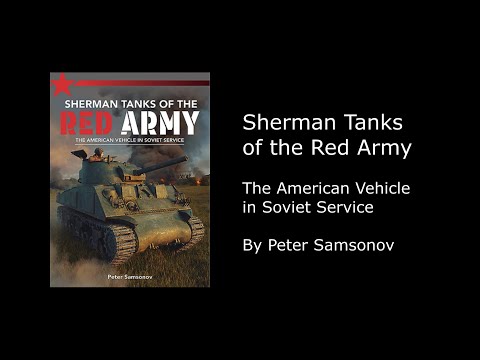 The Tanks of World War II - Tank and AFV News
Do you know a review which is not yet listed? Please
Login
to add it.
Related books
We are aware of 10 similar reference publications related to "M4 Sherman".
The Sherman at War
(2) The US Army in the European Theater 1943-45
Armor At War Series Nr. 7036
Steven J. Zaloga
2000
Sherman
Gegner der deutscher Panzer
Nr. 45
Bruce Culver, Don Greer|Horst Scheibert
1977
M4 Sherman
Walk Around Nr. 5701
Jim Mesko|Don Greer, Richard Hudson
2000
Stash
Wishlist
(0 mates)
Stash
(3 mates)
News Feed
The newsfeed doesn't contain any items.
More about M4 Sherman
Search for M4 Sherman and quickly find all products, articles, walkarounds and books related to this topic.