StuH 42 & StuG III Ausf. G Late Production
2 in 1
Takom | Nr. 8006 | 1:35
Feiten
Merk:

Titel:

StuH 42 & StuG III Ausf. G Late Production

2 in 1

Nummer:

8006

Schaal:

1:35

Type:

Volledig model

Uitgegeven:

2021 Nieuwe onderdelen

Streepjescode:

4897051422075

(EAN)

Verpakking:

Stijve doos (Topopener)

Onderwerp:
Markeringen
Sturmgeschütz III
StuG. III Ausf. G (late)
Wehrmacht Heer
(German Army 1935-1945)
3.Pzgren.Div.

202




Maart 1945

- near Mödrath


RAL7028

Dark Yellow

RAL6003

Olive Green

RAL8017

Red Brown
9 SS Pz.Div. Hohenstaufen

711




Maart 1945

- Berhida


RAL7028

Dark Yellow

RAL6003

Olive Green

RAL8017

Red Brown
StuH 42 (late)
Wehrmacht Heer
(German Army 1935-1945)
306




Januari 1945

- World War 2»Eastern Front


RAL7028

RAL6003

RAL8017

with Whitewash
Sturmgeschütz-Brigade 907


Maart 1945

- Northern Italy


RAL7028

Dark Yellow

RAL6003

Olive Green

RAL8017

Red Brown
Inhoud van de doos
Plastic Gietraam (Light gray), Raam met ge-etste delen (Brass), Raam met ge-etste delen (Steel), Gedraaid metaal (Steel), Vel met natte transfers (Black & white), Cable (Copper), Instructies (papier) (Multi-colored)
Afmetingen:
300x200x100 mm (11.8x7.9x3.9 inch)
Gewicht:
501 g (1.1 lbs)
Boxart designed by Jason
Wat zit er in de doos »
Product tijdlijn
Volledige tijdlijn »
Handleidingen
Download 0Kb (.pdf)
Marktplaats
Online shops
Alternative SKUs for Takom 8006:
TAK-8006 | TAKO8006 | TAKOM8006 | TAK08006 | B8006 | TAO8006
Notitie: Prijzen en beschikbaarheid alleen ter indicatie, controleer of het product daadwerkelijk overeenkomt.
Verwante producten
StuG Stowage Set #11
German Tank Bits #2 - Fill your StuG Rack
Value Gear 1:35
STG11
2021 Nieuwe mallen
All related products » (328 in totaal)
In-box reviews
External reviews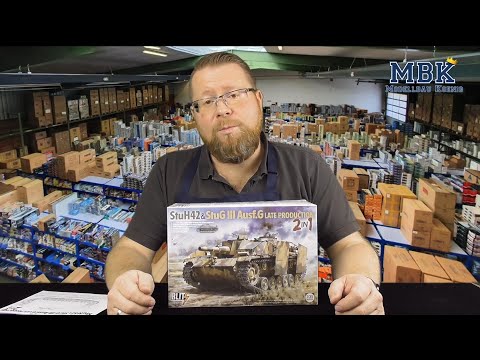 Recensie
Modellbau-Koenig
All reviews » (4 in totaal)
Projecten
StuH 42 Production of Alkett Company
105 afbeeldingen
The box art of TAKOM 8004
Opmerkingen
EWild
I have been disappointed with this kit and would be leary before you buy it. You can verify what I am writing by the links that are already on this page. If you look at the instructions you can see in step 25 the machine gun mount is molded into the top of the tank. You can look at the 2 unboxing videos and you can see the sprue does not show the mount as molded into the piece. The piece looks like the top of a legos head and not molded. The model was released in the US in January 2022 and this is when I bought it. I'm guessing that the wrong sprues were added to the box. I have sent 4 emails to the company's email business@takom-world.com and have received no response. Until you can verify this is fixed I would stay away from this kit.
8 April, 02:30
Jose Antonio Carpio Floria
You are absolutely right, when I read your comment I went to check it with the model I bought and, indeed, that piece was not well molded, the nuts are missing.
Fortunately, the brand has reacted well, perhaps as a result of your comment, and in my kit they added a bag with the same piece but already corrected with its nuts.
In any case, don't worry, there are 6 nuts that can be simulated very well with evergreen or with aftermarkets that are sold in the market.
Thank you very much for your notice.
All the best.
8 May, 12:16
Sturmgeschütz III
Reference material
StuG III Brigade 191
The Buffalo Brigade in Action in the Balkans, Greece and fro...
Bruno Bork, Anthony Tucker-Jones
2021
Alle boeken » (67 in totaal) Alle walkarounds » (22 in totaal)