StuH 42 & StuG III Ausf. G Late Production
2 in 1
Takom | N° 8006 | 1:35
Statistiques
Marque:

Titre:

StuH 42 & StuG III Ausf. G Late Production

2 in 1

Numéro:

8006

Échelle:

1:35

Type:

Maquette complète

Sorti:

2021 Nouvelles pièces

Code à barre:

4897051422075

(EAN)

Emballage:

Boîte rigide (ouverture par le haut)

Sujet:
Marquages
Sturmgeschütz III
StuG. III Ausf. G Late Production
Wehrmacht Heer (German Army 1935-1945)
711




RAL7028

RAL6003

RAL8017

3.Pzgren.Div.

202




Mars 1945

- near Mödrath


RAL7028

RAL6003

RAL8017
StuH 42 Late Production
Wehrmacht Heer (German Army 1935-1945)



RAL7028

RAL6003

RAL8017

306




RAL7028

RAL6003

RAL8017

with Whitewash
Contenu de la boîte
Grappes de plastique (Light gray), Photodécoupe (Brass), Photodécoupe (Steel), Métal tourné (Steel), Décalcomanie (à l'eau) (Black & white), Câble (Copper), Instructions (papier) (Multi-colored)
Dimensions:
300x200x100 mm (11.8x7.9x3.9 inch)
Poids:
501 g (1.1 lbs)
Boxart designed by Jason
Ce qu'il y a dans la boîte »
Chronologie du produit
Historique complet »
Instructions
Télécharger 2212Kb (.pdf)
Place de marché
Online shops
Alternative SKUs for Takom 8006:
TAK-8006 | TAK08006 | TAKO8006 | TAK8006 | TAO8006 | TKOB8006
Remarque: Les prix et la disponibilité ne sont qu'indicatifs. Vérifiez également si le produit correspond réellement!
Produits connexes
StuG Stowage Set #11
German Tank Bits #2 - Fill your StuG Rack
Value Gear 1:35
STG11
2021 Nouvel outillage
All related products » (320 au total)
Avis sur le contenu de la boîte
External reviews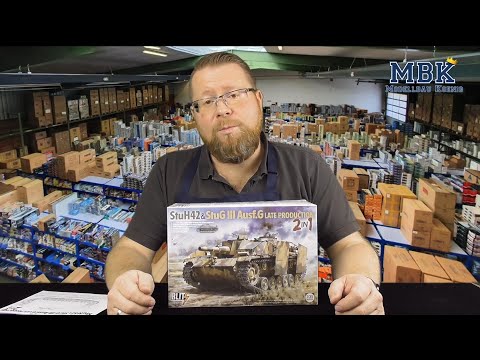 La revue
Modellbau-Koenig
All reviews » (4 au total)
Projets
StuH 42 Production of Alkett Company
105 images
The box art of TAKOM 8004
Commentaires
EWild
I have been disappointed with this kit and would be leary before you buy it. You can verify what I am writing by the links that are already on this page. If you look at the instructions you can see in step 25 the machine gun mount is molded into the top of the tank. You can look at the 2 unboxing videos and you can see the sprue does not show the mount as molded into the piece. The piece looks like the top of a legos head and not molded. The model was released in the US in January 2022 and this is when I bought it. I'm guessing that the wrong sprues were added to the box. I have sent 4 emails to the company's email business@takom-world.com and have received no response. Until you can verify this is fixed I would stay away from this kit.
8 April, 02:30
Jose Antonio Carpio Floria
You are absolutely right, when I read your comment I went to check it with the model I bought and, indeed, that piece was not well molded, the nuts are missing.
Fortunately, the brand has reacted well, perhaps as a result of your comment, and in my kit they added a bag with the same piece but already corrected with its nuts.
In any case, don't worry, there are 6 nuts that can be simulated very well with evergreen or with aftermarkets that are sold in the market.
Thank you very much for your notice.
All the best.
8 May, 12:16
Sturmgeschütz III
Reference material
StuG III Brigade 191
The Buffalo Brigade in Action in the Balkans, Greece and fro...
Bruno Bork, Anthony Tucker-Jones
2021
Tous les livres » (66 au total) Tous les photoscopes » (22 au total)