Tornado GR.1 Desert Babes Special
Limited Edition
Eduard | N° 2137 | 1:72
Statistiques
Marque:

Titre:

Tornado GR.1 Desert Babes Special

Limited Edition

Numéro:

2137

Échelle:

1:72

Type:

Maquette complète

Sorti:

2021 Nouvelles pièces

Code à barre:

8591437559275

(EAN)

Emballage:

Boîte rigide (ouverture par le haut)

Sujet:
Marquages
Panavia Tornado
Panavia Tornado GR Mk.1
Royal Air Force
(1918-now)
Contenu de la boîte
Grappes de plastique (Light gray), Grappes de plastique (Clear), Grappes de plastique (Light gray), Grappes de plastique (Clear), Photodécoupe (Multi-colored), Résine (moulée) (Light gray), Film photo (Clear), Décalcomanie (à l'eau) (Multi-colored), Feuille de masquage (Yellow), Instructions (papier) (Multi-colored )
Dimensions:
380x230x70 mm (15x9.1x2.8 inch)
Boxart designed by Kateřina Borecká
Ce qu'il y a dans la boîte »
Chronologie du produit
Historique complet »
Instructions
Télécharger 0Kb (.pdf)
Place de marché
Online shops
Private trade & swap
Alternative SKUs for Eduard 2137:
ED2137 | EDU02137 | ED02137 | EDK2137 | EDU2137 | EDU-02137
Remarque: Les prix et la disponibilité ne sont qu'indicatifs. Vérifiez également si le produit correspond réellement!
Produits connexes
All related products » (179 au total)
Avis sur le contenu de la boîte
Aperçus rapides
External reviews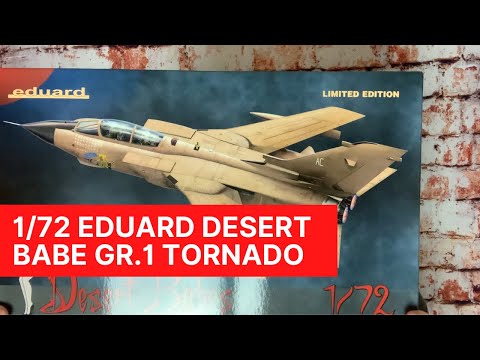 Examen en boîte
RW Hobbies
All reviews » (9 au total)
Projets
Tornado WIP
11 images
Galerie
Commentaires
familycat
According to Modeldecal, there should be a "recce pack fairing" under the nose. It is not depicted on this kit. Are there any pictures of it so I can reproduce it accurately? Glad instructions on this site.
19 August 2021, 21:34
Steven Van Dyck
There is a Tornado on Prime Portal with a fairing:
primeportal.net/hang..rnado_gr4_zd748_2sq/
Don't know if that's recce.
20 August 2021, 11:01
familycat
Thanks Steven ZD746? does not have the fairing. Very useful pics nevertheless.
20 August 2021, 19:03
familycat
Seen here
Fairing behind undercarriage oleo leg. Highlighted in red here:
tornadosig.com/variants.html
20 August 2021, 23:12
Panavia Tornado
Reference material
Tous les livres » (61 au total) Tous les photoscopes » (40 au total)