Offline
Tamiya Model Magazine 50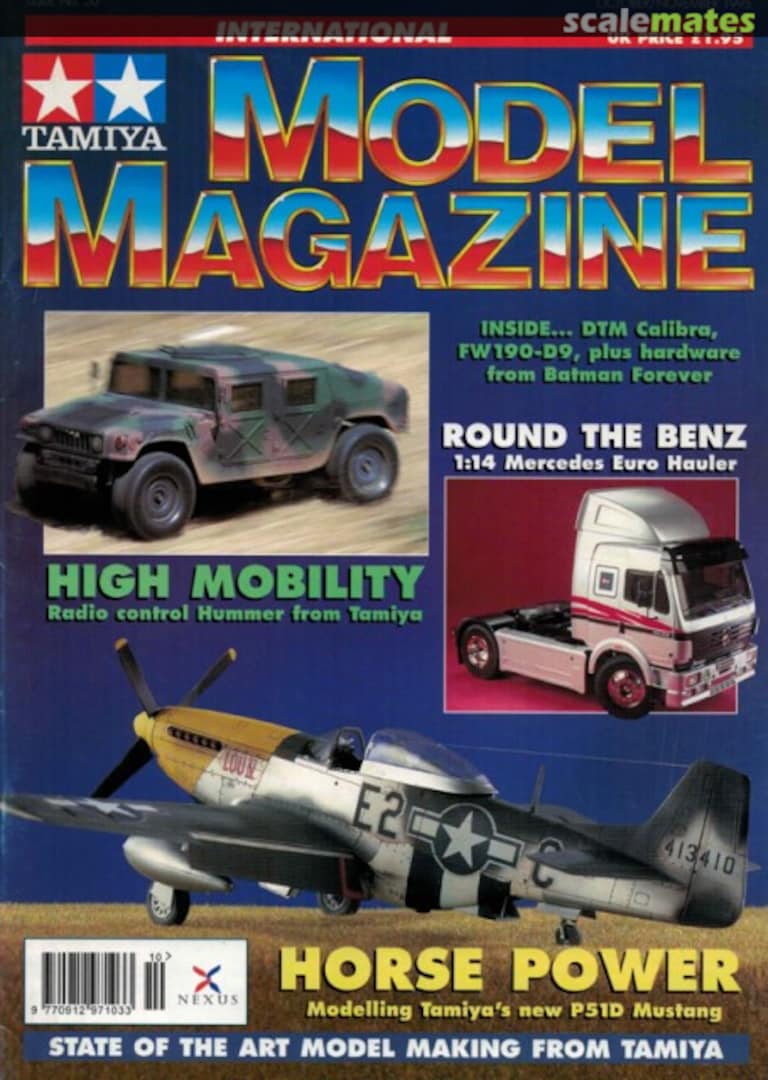 Issue
Table of contents
Page 4
News
Newsdesk
Model show news, plus some interesting new items...
Page 10
Gallery, 1:48
Double Dora
by Angus Creighton
Tamiya and Dragon's Fw190-D9 kits go head to head
+
+
Page 14
News
Armour update
A New Releases special, featuring some new armour kits in detail
Page 16
Gallery, 1:24
One thousand miles around Italy
Building and weathering Protar's Alfa Romeo Mille Miglia Special
+
Page 18
Gallery, 1:24
A wulf in sheet clothing
by Terry Scott
A very novel approach to adding panels to model aircraft
+
Page 21
Editorial
Readers' models
A chance to show off your modelling skills
Page 22
Gallery, 1:14
Driving 'round the Benz
The third 1:14 scale RC truck from Tamiya takes the form of the powerful Mercedes 1838LS. We build this awesome European tractor
Page 26
Gallery, 1:24
Opel's hopeful
by Simon Mosedale
Tamiya's slippery DTM Opel Calibra gets superdetailed
+
Page 30
Gallery, 1:48
Horse power
by Geoff Coughlin
Tamiya now offer the superlative P51D Mustang in their 1:48 scale series. Check out the in-depth review of this super new kit
+
Page 34
Gallery, 1:12
Humm dinger
by Marcus Nicholls
The M1025 Hummer is the latest scale RC car from Tamiya - time for some off road testing
Page 39
Gallery, 1:35
Build a better baiter
by Angus Creighton
The second of Dragon's super little Hetzer kits rolls in
+
Page 45
Gallery, 1:4
Mint imperial
by Grahame Chambers
Screamin' vinyl Stromtrooper from Star Wars receives the TMMI treatment
+
Page 46
Gallery
Bats not included
Revell now offer three of Batman's new machines from "Batman Forever" - we investigate, with capes on of course...
Page 50
News
New releases
The latest models, accessories and books
Page 52
Editorial
Letters
Your comments in print, plus those kit crazy nerds, Vic and Ray
Page 54
Editorial
Competition
A chance to win models in this free to enter competition
Stash