Supermarine Spitfire Mk.IXc
Airfix | N° A17001 | 1:24
Statistiques
Marque:

Titre:

Supermarine Spitfire Mk.IXc

Numéro:

A17001

Échelle:

1:24

Type:

Maquette complète

Sorti:

2022 Nouvel outillage

Code à barre:

5055286686412

(EAN)

Emballage:

Boîte rigide (ouverture par le haut)

Sujet:
Marquages
Supermarine Spitfire
Supermarine Spitfire Mk.IXc
Royal Canadian Air Force - Aviation royale canadienne
(1924-1968)
402 Sqn. City of Winnipeg

EN398

(Wg.Cdr. James 'Johnnie' Johnson/Fg Off. Ian Keltie)


Mars 1943

- RAF Kenley
Armée de l'Air
(French Air Force 1934-now)
GR 2/33 Savoie

MJ897

Curieux




Septembre 1944

- Dijon
Royal Air Force
(1918-now)
No. 126 (Persian Gulf) Sqn.

ML214




Juin 1944

- RAF Harrowbeer
US Army Air Forces
(1941-1947)
309 FS

WZ-GJ

'Eleanor'

(Maj. Garth Jared)


Janvier 1944

- Pomigliano
Contenu de la boîte
Grappes de plastique (Light gray), Grappes de plastique (Clear), Décalcomanie (à l'eau) (Multi-colored), Instructions (papier) (Multi-colored)
Dimensions:
470x260x120 mm (18.5x10.2x4.7 inch)
Boxart conçu par Adam Tooby
Chronologie du produit
Nouvel outillage
Historique complet »
Instructions
Télécharger 0Kb (.pdf)
Place de marché
Boutiques en ligne
Afficher toutes les offres » (11 au total)
SKU alternatifs pour Airfix A17001:
AIR-17001 | AIR17001 | 17001 | AIRA17001 | AX A17001 | 5055286686412
Remarque: Les prix et la disponibilité ne sont qu'indicatifs. Vérifiez également si le produit correspond réellement!
Produits connexes
Tous les produits associés » (81 au total)
Avis sur le contenu de la boîte
Aperçus rapides
Examens externes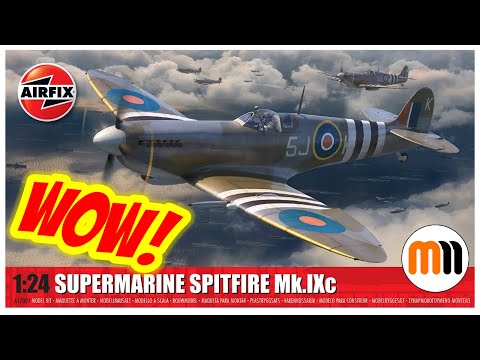 Examen en boîte
Mann's Model Moments
Tous les avis » (9 au total)
Magazines
Projets
Galerie
Tous les articles » (23 au total)
Commentaires
Gluefinger
In the past couple of years, the ever-rising prices for Airfix' kits have kept me from buying several items I am interested in, but the admission fee for this kit I find comparatively attractive.
Case in point: a 1:48 new tool Buccaneer would set me back nearly 80% of what I just paid for this; doesn't really computer for me as the new-tool Spitfire isn't exactly a shelf-sitter that must be sold off cheap...
1 31 December 2022, 12:11
Artur Kapusta
Finally! Mk IX in 1/24! Pity that it's not Spitfire with E wing but still great news 😄
9 January 2022, 18:56
Supermarine Spitfire
Matériel de référence
Tous les livres » (343 au total) Tous les photoscopes » (33 au total)