28. Békéscsabai Nemzetközi Makettkiállítás és Verseny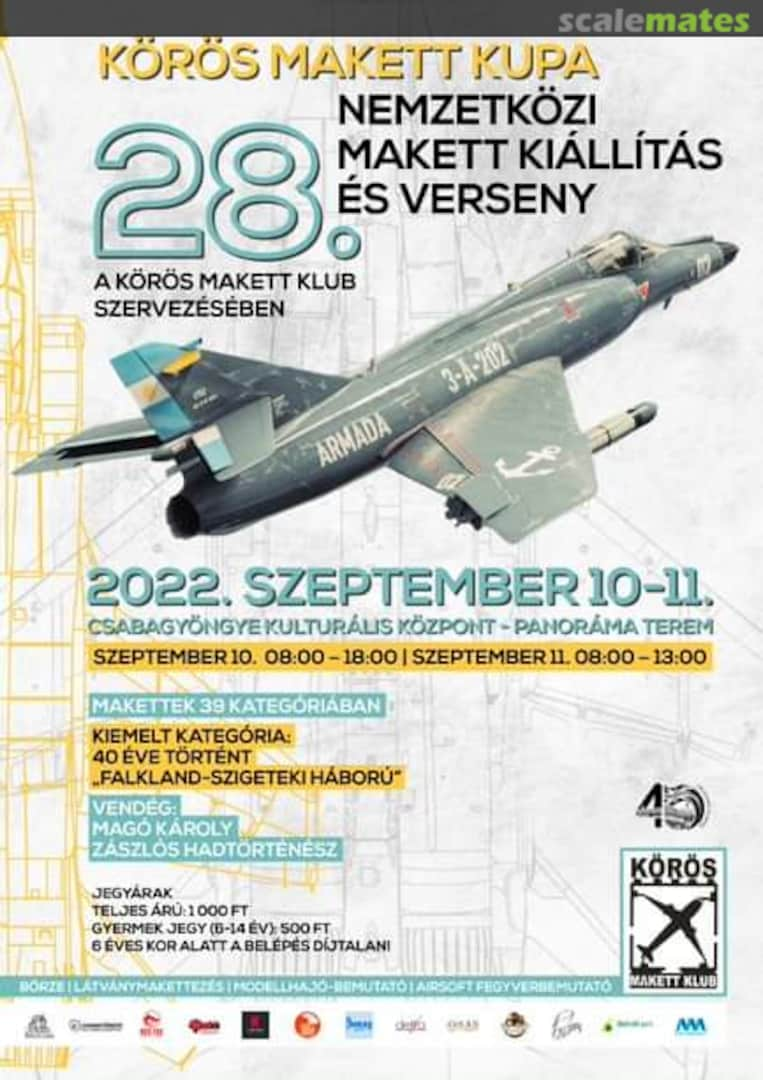 Event details
Name:

28. Békéscsabai Nemzetközi Makettkiállítás és Verseny

Town:

Békéscsaba

Organising Club:

About:

A versenyünk kategóriái / Contest categories:

Gyermek kategóriák (14 évesek és fiatalabbak / Children categories (14 years and younger)
GYH - Gyermek harditechnika / Children Military tech.
GYP - Gyermek polgái tech / Children Civilian tech.
GYE - Gyermek egyéb / Children Other

Ifjúsági kategóriák (15-17 évesek) / Junior categories (15-17 years)
IH - Ifjúsági haditechnika / Junior Military tech.
IP - Ifjúsági polgái tech / Junior Civilian tech.
IE - Ifjúsági Egyéb / Junior Other

Felnőtt Hobby kategóriák / Adult Hobby categories
FR1 - Repűlő - 1/72 és kisebb légcsavaros / Airplanes 1/72 and smaller prop.
FR2 - Repűlő - 1/48 és nagyobbb légcsavaros / Airplanes 1/48 and bigger prop.
FR3 - Repűlő - 1/72 és kisebb jet / Airplanes 1/72 an smaller jets
FR4 - Repűlő - 1/48 és nagyobbb jet / Airplanes 1/48 and bigger jets
FR5 - Helikopterek / Helicopters
FHJ1 - Gumikerekes Harcjármű / AFV Wheeled
FHJ2 - Lánctalpas harcjármű 1/48 és nagyobb / AFV tracked 1/48 and bigger
FHJ3 - Lánctalpas harcjármű 1/72 és kisebb / AFV tracked 1/72 and smaller
FF1 - Figura összevont / Figures all scale
FF2 - Mellszobork / Busts
FSC - SCI-FI járművek / Sci-Fi vehicles
FHA1 - Hajók (fából) / Ships (wood)
FHA2 - Hajók (műanyagból) / Ships (plastic)
FA1 - Autó (utcai) / Cars (Street)
FA2 - Autó (verseny) / Cars (Racing)
FM - Motorkerékpárok / Motorcycles
FK - Kamionok / Trucks
FMG - Munkagépek / Utility vehicles
FV - Kötött pályás járművek / Railed vehicles
FSA - Saját építésű makettek / Scratchbuild models
FE - Egyéb makett / Other models
FD1 - Dioráma / Dioramas
FD2 - Vignetta / Vignette

Felnőtt Mester kategóriák / Adult Maste categories
MR - Repűlő összevont / Airplanes all scales
MH - Harcjármű - összevont / AFV - all scales
MA - Polgári jármű - összevont / Civilian vehicles - all scales
MF - Figura - összevont / Figures - all scales
MS - Hajó összevont / Ships -all scales
MD - Dioráma - összevont / Dioramas - all scales
ME - Egyéb - összevont / Other models - all scales

Special categories
K1 - Falklandi háború - Repűlők / Falklands War Airplaes
K2 - Falklandi háború - Harcjárművek / Falklands War AFV
K3 - Falklandi háború - Hajók / Falklands War Ships

Contest:

The event has a contest
When
Date:

9-11 September 2022
Location
Town:

5600 Békéscsaba

Street:

Széchenyi u. 4

Map:
Entrance fees
Entrance fees:

1.000 HUF
500 HUF (under 14 years)

Attendees
2 mates are planning to visit this event
Exhibitors
Visitors
In competition
Photoalbums
There are 2 photoalbums related to this event.
Show reports
50 show reports related to Expo are found in our search engine.
Similar events
News Feed